A CAPPELLA DOUBLE DOWN:
TUCKERMANS AT 9, NONE OF THE ABOVE AT GARRISON PLAYERS ARTS CENTER
FOR RELEASE APRIL 16, 2016
CONTACT: Mark Miller (603) 749-5044 office, (603) 767-9249 mobile
The Garrison Players Arts Center (GPAC) in Rollinsford, NH, can fairly be called "cozy". But this late 19th century grange hall-cum-performance space is plenty big enough for not one but two a cappella groups: Tuckermans at 9 (top) and special guest None Of The Above (bottom) on April 30 at 8pm.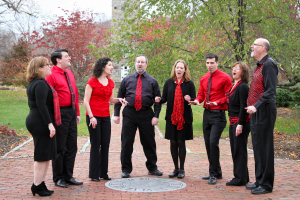 "This is our ninth year in a row at GPAC," says Tuckermans at 9 founder and baritone Mark Miller of Dover. "It's one of our favorite places to perform… the sound is great and the Garrison Players are always so welcoming. And this year we're pleased to welcome the amazing, Boston area-based None Of The Above to open the show!"
Since 2004, Tuckermans at 9 – called "T9" for short by fans – has performed contemporary a cappella versions of well-known pop, rock, blues, and light jazz, mostly from the 1960s to today. Voices make all the music, including what sounds like brass, electric guitars, or drums. Like T9, octet None Of The Above (NOTA), formed in 2003, uses no instruments or pre-recorded instrumental tracks. As the group's name implies, NOTA sings an eclectic mix: early polyphony, cutting-edge modern harmony, familiar folk songs, uplifting spirituals, catchy pop tunes, and lush jazz standards. The group performs thoughout New England and was one of eight finalists on WGBH-TV's "Sing That Thing!" in 2015.
New material in the T9 pipeline includes Rockapella's heart-tugging "Don't Tell Me You Do", The Beatles' "A Little Help from My Friends" a la Joe Cocker, and the moody Motown classic "I Heard It Through the Grapevine". Adds Miller, "We'll also offer Lionel Richie's 'All Night Long', 'Drift Away by Dobie Gray, and a medley of hits by the indie band Fun." NOTA's set list includes "When You're Good to Mama" from the Broadway smash "Chicago", "Mirrorball" by Elbow and Vienna Teng's "Harbor", and the group's own take on jazz standards "Straighten Up and Fly Right" and "This Could Be the Start of Something Big". "And," reminds Miller, "every note is a cappella!"
Rounding out T9's New Hampshire roster are soprano Ashley Gove (Nashua), altos Kam Damtoft (Durham) and Fran Lipe (New Durham), tenor Walt Porter (Brentwood), bass Bill Hersman (Durham), and vocal percussionist Tim Bull (Hampton). Sound technicians are Tony Berke (Exeter) and Kevin Consaul (Nashua).
Tuckermans at 9 Rockin' A Cappella with special guest None Of The Above; 8pm; The Garrison Players Arts Center, 650 Portland Avenue, Rollinsford, NH, corner of Route 4 and Roberts Road. Plenty of free parking. Tickets: under 18 $15, adult $18 at garrisonplayers.org and at the door. T9 info: tuckermansat9.com and facebook.com/TuckermansAt9. NOTA info: noneabove.org or on Facebook at bit.ly/1SJYzR3